<!–
I walk to connect with the city, but also to connect with other immigrants who pursue home the way I do — step by step.
By its nature, the metropolis provides what otherwise could be given only by traveling; namely, the strange. —Jane Jacobs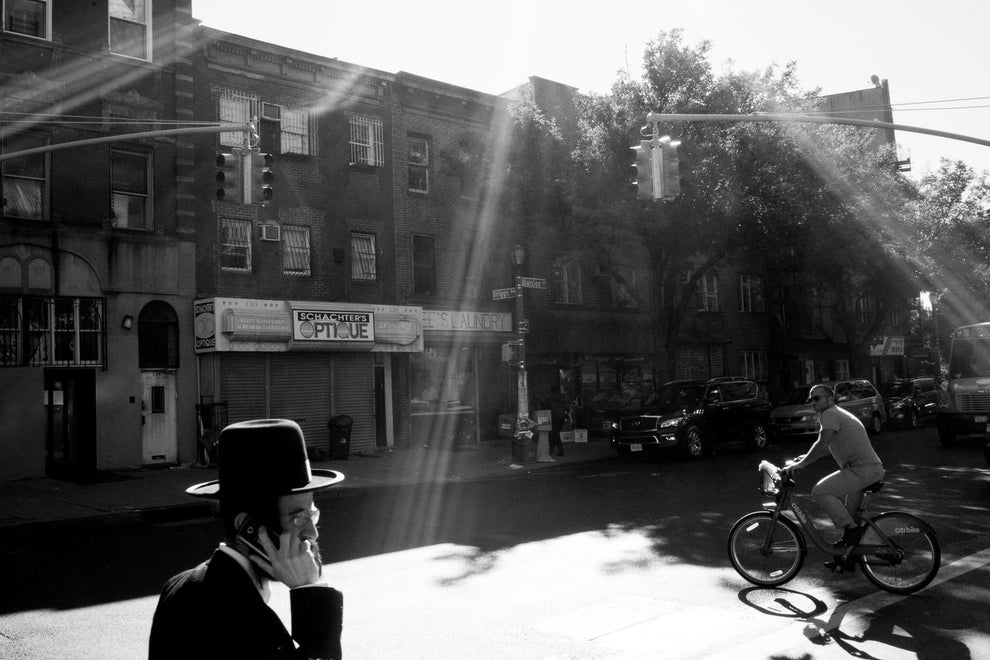 South Williamsburg, Brooklyn, New York. Samir Abady for BuzzFeed News
One cold spring night, the promise of summer held back as if in spite, I emerged from a subway station on the edge of Williamsburg, on my way to meet a friend for dinner. I noticed an Orthodox Jew in characteristic all-black attire and shtreimel walking swiftly toward me. I assumed that he found me suspicious — a not-rare-enough reaction to the mundane fact of my having black skin — and so was advancing threateningly to ward off the threat I was presumed to be. I began to move away from him, but not too quickly, lest I appear all the more guilty. He altered course to intercept me, like a bullet that wouldn't be denied its target. I zigged, hoping that a quick veer would get me away from him, but somehow he managed to close the distance between us. He didn't walk so much as glide. Perhaps the man was a ninja and I had scanned him wrong. I stopped and flinched, thinking, Not the face, please, but he leaned in and, with gentle insistence, asked, "Would you like to do a good deed?" There was an undertone of challenge to the question, and also an irresistible strain of pleading. I answered yes, and he made a sharp turn and said, "Follow me."
He took me around a corner, where an older man stood with three young kids huddled beside him. "Follow the rabbi," my chaperone said. So I followed the rabbi, who crossed the road, children in tow, entered a synagogue, and climbed the high stairs that overlooked its majestic hall. There he stopped and entered a modest kitchen. He instructed me to unplug a kettle. When I had done so, the rabbi graciously bid me goodbye, and I stepped out onto the windy sidewalk, ready to rush to my appointment. But my good deed wasn't done, apparently. The friendly ninja said, "There is one more. Come with me."
Off we went, down the road to what turned out to be his own apartment. His wife and two curious children were standing in the living room — they'd been waiting for hours, I was told, for whomever was ready to perform a good deed on a Saturday night (it was the Jewish holiday Shavuot) — and he had me set his thermostat at a desired temperature and turn on his dryer, which had wet clothes in it. As I was checking appliances, he asked what I did for a living. "I'm a writer," I answered, and he asked me to email him my work. I looked at the email address he scribbled on a paper and tried to repress a smile; it was the kind of address I'd expect from a playful teenager, not from this distinguished-looking Orthodox Jew who was graciously insisting on giving me food for my journey. I explained that I needed nothing — a good deed should be its own reward, after all, plus I was on my way to eat Japanese food — but he insisted that I shouldn't leave empty-handed and gave me a freezie. "Look — it's kosher," he reassured me.
A neighbor was waiting in the hallway. He beckoned me to an apartment one floor below, where I turned on lights to discover about a dozen people standing in the living room, no longer in the dark because I had flipped a switch. I didn't have the heart to ask how long they had congregated there in the darkness. Thermostat and kettle checked, I finally made my way out of this building populated with people who depended on the kindness of strangers.
Out on the quiet sidewalk, I looked around. No one was waiting to accost me.
Out on the quiet sidewalk, I looked around. No one was waiting to accost me. I stared up at the building, and the darkness in the windows tugged at me — were people up there waiting for hands willing to work on the Sabbath? Would they shout for assistance if they saw me? The only sound I heard was the whistle of a wind that rushed down to push me along, as if someone had whispered that I was late. Suddenly these sidewalks where I had walked dozens of times before became a place more revealing, and more mysterious.
Garnette Cadogan is a Visiting Fellow at the Institute for Advanced Studies in Culture at the University of Virginia, and Visiting Scholar at the Institute for Public Knowledge at New York University. He is editor-at-large for Nonstop Metropolis: A New York City Atlas (edited by Rebecca Solnit and Joshua Jelly-Schapiro) and is at work on a book on walking.